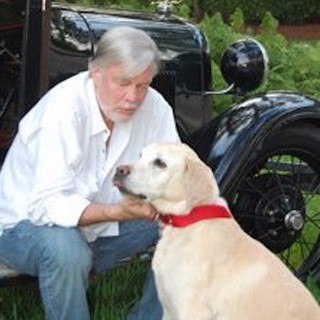 James Selby Rue, fine artist, illustrator, product designer. A product of the Midwest, James was born just outside of Chicago in Barrington, Illinois. Eventually the family moved to Wheaton where he graduated from high school. During his Junior and Senior years at Wheaton, James attended figurative drawing classes at the American Academy of Art in Chicago, under the direction of William H. Mosby, Painting and figurative classes continued at The Art Institute of Chicago. Entering college studies at Layton School of Art in Milwaukee, he had a head start with a fine art career. Upon graduation, with degree in hand, he headed to Boston to pursue a much more refined set of graduate courses in art and business.
The first two years in Massachusetts were a scheduling challenge balancing graduate studies and a job with Container Corporation of America (CCA) as an inventive junior Art Director. James was rapidly promoted to Managing Art Director on several major commercial accounts thus limiting his time for formal continuing education. Not wanting to kill his more imaginative fine art vision, James began to teach figurative drawing and still life two evenings a week for college credits while maintaining a full-time position in the commercial field. He painted on the weekends, selling his work to a list of private and corporate collectors that he cultivated through business and academia connections.
Although commercial work came easy, James had a firmer vision on a fine art career. He developed a string of evening teaching classes in the Cambridge, Concord, and Lexington, Massachusetts areas and began supplementing his income with a handful of freelance commercial accounts. Within two years he tendered his responsibilities with CCA and went out on his own labeling his venture a "boutique" advertising agency. The agency offered traditional agency services as an in-house business unit without being actual employees to the clients they served. The concept was unique at the time and soon caught on with more than a dozen contracts. As the company expanded so did the employee base. Offering incentives to employees for extra responsibilities, the company became a driving creative source in New England. As clients expanded, so did the reach of the clients facilitating the need to open an additional office in South Florida to serve three market segments: the Cruise Lines, Airlines and Hospitality industries. Unique advertising and marketing solutions for these markets gained the group international attention and a broader base of clients reaching into the Bahamas and South and Central America.
Along with the ever-growing client projects came the opportunity to work with corporate art collections. James had developed unique inroads to some of the little known corporate art collections for some of his clients, not generally seen by the public. He helped catalog hundreds of pieces for Pan Am, Reebok International, Norwegian Cruise Lines, Raytheon, Beechcraft and L.L.Bean to mention a few.
After forty years of developing consumer products, advertising programs and marketing solutions, Mr. Rue decided to re-mix his goals with a solid collection of combined creative talents. Along with his wife, Carolyn Anne Crocker, they have developed several consumer products for the studio artist. The first offering was the RUE Wall Easel launched in September 2014. The unique design changes the way the Artist's studio is arranged and how work is viewed. Other products were introduced in 2016 through their International Distributor in Raleigh, NC. The creativity and efficiency afforded in a well-designed workspace fitted with wall easels is showcased in their Banner Elk studio.