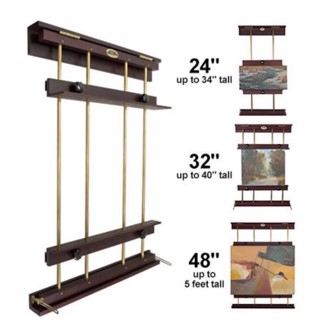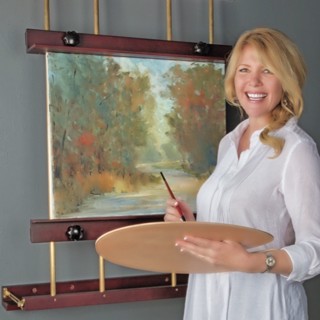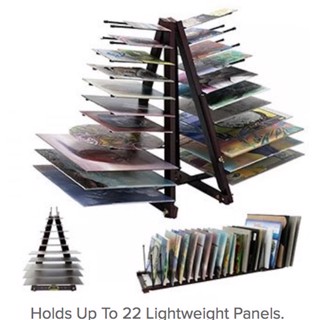 If you're an artist with a small workspace, or just need multiple workstations in your studio, the RUE Wall Easel is the perfect solution. The easel requires zero floor space. It assembles in minutes and can mount to the wall in several different ways. The RUE Wall Easel is built to last with furniture quality hardwood, mahogany finish and all brass hardware. Designed to hold either stretched canvases or panels. Comes in three different sizes. Also makes an attractive display easel for the home, office or gallery. Patent protected.
Designed by artists for artists
Artists James Selby Rue and Carolyn Anne Crocker (Rue) share a studio and a passion for fine art. In 2012, Carolyn downsized to a smaller workspace with inadequate floor space for her large floor easel. From a need for less cumbersome equipment, a solution was born that created an entirely new category in easels for the studio artist. With a background in product design, James created a system of adjustable wall easels that are already changing the way artists set up their studios and free up floor space. In 2014, a patent and an international distributor followed. The Rue Wall Easels debuted in September of 2014 receiving the "Best New Art Product of the Year" honors.
Features:
Mahogany finish hardwood

All brass hardware Extra room for easel lamp

Space saving design for small studio spaces & dorms

For artists of all skill levels

Easily adjusts for painting or pastels

Brass poles are interchangeable for different heights

Available in three sizes:

24" model holds canvases up to 34" tall

32" model holds canvases up to 40" tall

48" model holds canvases up to 5 ft. tall
NOTE: The vertical poles can also be changed out with 1/2" copper pipe if you need more vertical working area. It can commonly be found at most home improvement stores.
Where to find a RUE Wall Easel
RUE Panel Ladder
Holds up to 22 lightweight panels

For details and images:
Where to find a RUE Panel Ladder